Group rides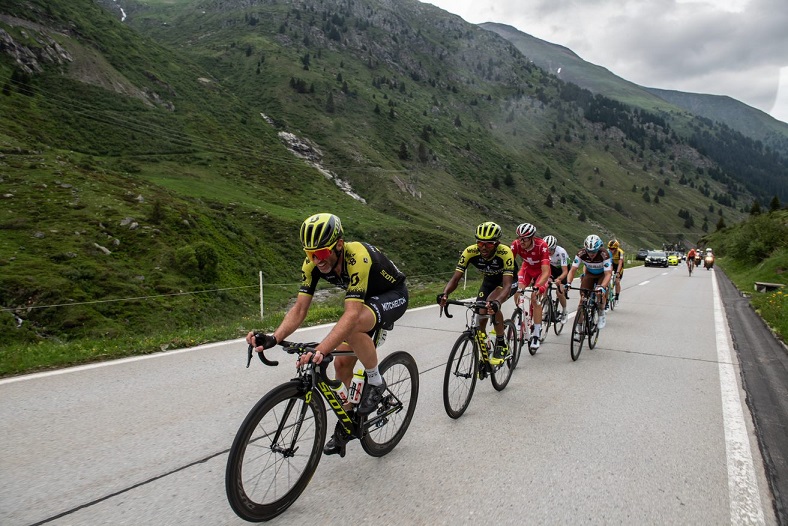 Creating a race only takes a minute! Fill out the race parameters, select a route, and invite friends...
You can train online with friends from around the world with Rouvy. Use this website to create and edit races or register for other people's races. You can also view ongoing races and root for your friends!
EVENTS & INVITATIONS
My registrations to events
You are not registered for any race now.
Invitations
You have no invitations at the moment
Running events
You have no current races at the moment
MY EVENTS
SCHEDULED EVENTS
RUNNING EVENTS
FINISHED EVENTS
Sorry, there are no events in your list. Try creating some...
| Status | Event start | Event name | Distance | Allowed trainers | Laps | Registered users | Author | |
| --- | --- | --- | --- | --- | --- | --- | --- | --- |
| | 09/21/2023 10:00:00 | Cow Creek | 17.6 mi | all devices | | 2 / 300 | | Detail |
| | 09/21/2023 11:00:00 | 한사모 230921 | 15.5 mi | all devices | | 2 / 300 | | Detail |
| | 09/21/2023 11:30:00 | Team_Korea_09_21_pemozz | 13.8 mi | all devices | | 18 / 300 | | Detail |
| | 09/21/2023 12:00:00 | RTL//0921//5m@60%(1"@80+5"@80/rpm80>+10>120)X2 | 29 mi | all devices | | 13 / 300 | | Detail |
| | 09/21/2023 12:00:00 | 2023環西班牙第21站馬德里 | 15.5 mi | all devices | | 1 / 300 | | Detail |
| | 09/21/2023 16:00:00 | Rouvy Thursday 1.5 to 2 w/kg - Discord | 12.7 mi | all devices | | 17 / 300 | | Detail |
| | 09/21/2023 17:00:00 | GURE #002 Tempo Sub umbral 0,73IF | 24.9 mi | all devices | | 11 / 300 | | Detail |
| | 09/21/2023 17:00:00 | In het Wiel - Veluwe | 19.8 mi | all devices | | 1 / 300 | | Detail |
| | 09/22/2023 10:15:00 | Gem City ICC - Zone 2 endurance | 25.3 mi | all devices | | 4 / 300 | | Detail |
| | 09/22/2023 11:00:00 | 한사모 230922 | 16.2 mi | all devices | | 1 / 300 | | Detail |
| | 09/22/2023 14:00:00 | FRIDAY HIIT | 19.7 mi | all devices | | 7 / 300 | | Detail |
| | 09/22/2023 14:00:00 | Friday Social | 2 W/kg #1 | 10 mi | all devices | | 3 / 500 | | Detail |
| | 09/22/2023 15:00:00 | Pred Riders | 15.3 mi | " | | 1 / 300 | | Detail |
| | 09/22/2023 18:00:00 | Friday Social | 2 W/kg #2 | 10 mi | all devices | | 3 / 500 | | Detail |
| | 09/23/2023 09:00:00 | Keep it Low | 2 W/kg #1 | 9.7 mi | all devices | | 0 / 500 | | Detail |
| | 09/23/2023 12:00:00 | Keep it Low | 2 W/kg #2 | 9.7 mi | all devices | | 1 / 500 | | Detail |
| | 09/25/2023 10:15:00 | Gem City ICC - Head start and keep away | 12.8 mi | all devices | | 2 / 300 | | Detail |
| | 09/25/2023 14:00:00 | ♀ Women Only City Ride | 2.3 W/kg #1 | 12.7 mi | all devices | | 0 / 500 | | Detail |
| | 09/25/2023 18:00:00 | ♀ Women Only City Ride | 2.3 W/kg #2 | 12.7 mi | all devices | | 0 / 500 | | Detail |
| | 09/27/2023 14:00:00 | WEDNESDAY RECOVERY RIDE | 12.5 mi | all devices | | 7 / 300 | | Detail |
There are no running events at this time
| Status | Event start | Event name | Distance | Allowed trainers | Laps | Registered users | Author | |
| --- | --- | --- | --- | --- | --- | --- | --- | --- |
| | 09/21/2023 03:30:00 | GHP - Bormio - Tirano | 22 mi | all devices | | 3 / 300 | | Detail |
| | 09/20/2023 19:59:00 | PEDALITALY Recanati - Marche, at around 2.1w/kg | 15.8 mi | all devices | | 1 / 300 | | Detail |
| | 09/20/2023 18:00:00 | ♀ Women Only Coastal Cruise | 1.5 W/kg #2 | 19.9 mi | all devices | | 5 / 500 | | Detail |
| | 09/20/2023 17:15:00 | La Vuelta Stage 16 | 19.2 mi | all devices | | 2 / 300 | | Detail |
| | 09/20/2023 17:00:00 | R2K VUELTA | 19.7 mi | all devices | | 6 / 300 | | Detail |
| | 09/20/2023 16:37:00 | First Group Ride | 19.9 mi | all devices | | 2 / 300 | | Detail |
| | 09/20/2023 16:30:00 | Vaaki - Wednesday Tempo | 24.8 mi | all devices | | 8 / 300 | | Detail |
| | 09/20/2023 14:45:00 | Coen Sir | 12.4 mi | all devices | | 4 / 300 | | Detail |
| | 09/20/2023 14:30:00 | Les Sables d'Olonne-Vendée | 12.4 mi | all devices | | 1 / 300 | | Detail |
| | 09/20/2023 14:00:00 | WEDNESDAY RECOVERY RIDE | 12.4 mi | all devices | | 22 / 300 | | Detail |
| | 09/20/2023 14:00:00 | ♀ Women Only Coastal Cruise | 1.5 W/kg #1 | 19.9 mi | all devices | | 14 / 500 | | Detail |
| | 09/20/2023 13:30:00 | smrg Wed 20 @ 9:30 | 13.4 mi | all devices | | 4 / 300 | | Detail |
| | 09/20/2023 12:30:00 | Wednesday gruop rides | 12.4 mi | " | | 5 / 300 | | Detail |
| | 09/20/2023 12:10:00 | Wednesday group rides | 12.4 mi | " | | 1 / 300 | | Detail |
| | 09/20/2023 11:30:00 | Team_Korea_09_20 | 19.1 mi | all devices | | 39 / 300 | | Detail |
| | 09/20/2023 11:20:00 | 趴趴亞週三夜團騎76-88%/85-95@ | 18.9 mi | all devices | | 7 / 300 | | Detail |
| | 09/20/2023 11:00:00 | 한사모 230920 | 19.9 mi | all devices | | 5 / 300 | | Detail |
| | 09/20/2023 11:00:00 | GoRide20sep | 16.8 mi | " | | 3 / 300 | | Detail |
| | 09/20/2023 10:15:00 | Gem City ICC - "Shift" to the Hills | 12.1 mi | all devices | | 12 / 300 | | Detail |
| | 09/19/2023 21:45:00 | Voltinha Sergio Nuno | 12.4 mi | all devices | | 3 / 300 | | Detail |